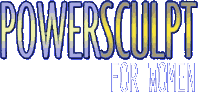 Join the PowerSculpt Revolution! Try the First Body Sculpting Workout for Women Using the Exercise Ball.

Do you want a sleek, sexy, sculpted body? Then discover the revolutionary PowerSculpt workout, the first exercise ball program

designed especially for women. PowerSculpt: The Women's Body Sculpting & Weight Training Workout Using the Exercise Ball shows how to use an exercise ball to flatten your abs, build muscle tone, and gain strength, flexibility, and energy in record time.

Exercise balls, also known as swiss balls or fitness balls, are becoming more and more popular with gyms and trainers because they work so many muscles at the same time. What's more, they target the important "core" muscles that surround and support the central structures of the body.

Expert trainer Paul Frediani has designed the PowerSculpt workout to address the unique body sculpting needs of women. In a progressive, 12-week plan, you'll learn how to use the exercise ball to flatten your abs and build muscle tone. With PowerSculpt, you will take inches off all over; jump start your energy and stamina; boost your metabolism to burn mega calories; strengthen your chest, shoulders, and core for perfect posture; and get a figure you'll love showing off. You'll look great and feel beautiful. With step-by-step instructions and hundreds of clear photos, PowerSculpt has exercises and workouts that are perfect for everyone, no matter what your fitness level. If you want to get in the best shape of your life, then get on the ball with PowerSculpt.

PowerSculpt features:
• Workouts for every fitness level
• Exclusive PowerSculpt Workout - a progressive 12-Week body sculpting plan
• Bonus 10-Week Body Blast Workout—it's only 1 day a week, but you'll need the other 6 for rest!
Read these articles about POWER SCULPT:
Related articles:
---